Atlanta Electricians
Electric Work for a Safe, Secure, & Functional Home
Electricity is integral to the modern home. In order to keep you and your family safe and comfortable, you need an electrical company you can trust, and residential customers can rely on the knowledgeable experts at Aardvark Electric, Inc. for prompt and professional service. All of our technicians are fully trained, show up in fully stocked trucks, and will always provide honest and up front pricing.
Outlets not working? Breakers keep tripping? Have lights flickering? For trusted Atlanta electrical services, call Aardvark Electric, Inc. today..
Contact us at (404) 882-9917 for all your Atlanta electrical service needs
Residential Electrical Services
Over your lifetime, your home is likely to need various electrical repairs and upgrades. If you remodel a room or make an addition, you'll want to consider relocating or adding outlets and switches. If you install a new appliance, you should make sure your current wiring can handle the load. If you live in an older home, safety inspections and upgrades are crucial to maintain the safety and functionality of your home.
Aardvark Electric, Inc. can take on any residential electric project, including the following:
Safety inspections and updates for NEC code compliance
Indoor lighting, including new fixtures, recessed lighting, and LED upgrades
Outdoor and landscape lighting
Installation of arc and ground fault circuit interrupters (AFCI and GCFI work)
Home circulation improvements, with ceiling, attic, and whole house fan installation
Panel and sub panel work
Meter base and overhead meter socket installation
Special installations, including smoke and CO detectors, phone and internet cabling, and even electrical vehicle charging stations
Circuit and wiring work, including installation of new outlets, switches, and dimmers
Whether you are upgrading your wiring, troubleshooting inconsistencies in your system, or searching for a reliable repair service, Aardvark Electric, Inc. has you covered. Our prompt and professional Atlanta electricians can address all your concerns, and they will leave your property even cleaner than they found it.
We also provide after-hours emergency service, meaning if something unexpected happens, you don't need to worry, our technicians will be at your door in no time.
Why Aardvark Electric, Inc. Is the Right Choice
We take pride in making sure each and every job is done correctly. But you don't want a company that just gets the job done—you want one that communicates well, is there when you need them, and will work with you to make sure you are satisfied with your repair or installation.
Here are some more reasons why you should choose the experts at Aardvark Electric, Inc.:
100% satisfaction guarantee
Fully insured in Georgia
Live call center (no machines)
Courtesy call before arrival
Courtesy call after service
Family owned and operated
After-hours emergency service
If you aren't completely satisfied with the service you receive from our Atlanta electricians, simply give us a call and we'll fix the issue to your satisfaction, or you'll get your money back. That's a guarantee!
For all your electrical needs, call Aardvark Electric, Inc!
Reach out today at (404) 882-9917 and take a step to a better, safer home. Call now to schedule your electrical services in Atlanta, GA!
We Are the Bright Choice
Learn What Aardvark Electric is Doing to Bring the Highest Quality to Your Home

Emergency Services
Family Owned & Operated
Same-Day Service
Up-Front Pricing
Satisfaction Guaranteed
Professionally Trained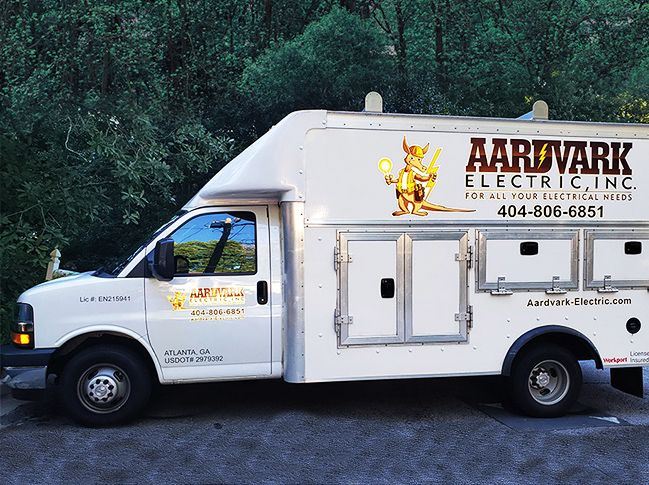 Request Your Service Today

Our team is here to help with all of your electrical needs!
Glowing Reviews
Read What Our Customers Are Saying About Our Service

Great Job
"He was very efficient and mindful of my tight schedule, which meant a lot! He was sure to clean up after himself"
- Happy Customer
We will not hesitate to call Aardvark in the future!
"Aardvark Electric responded promptly and professionally to our minor emergency. Elie was great from start to finish"
- Thankful Customer
Goes Above & Beyond
"Something the inspector missed was pointed out and easily corrected which makes me feel secure in the knowledge that I chose the best company for my needs."
- Satisfied Customer
Flip the Switch
Schedule your service by filling out this form or calling our office at (404) 882-9917.