Security Camera & Doorbell Installation in Atlanta, GA
There's nothing better for your home and family than a sense of security. And there's no substitute for a reliable home security camera system. At Aardvark Electric, we strive to offer the best security camera & doorbell installation options in Atlanta, GA. 
Our talented electricians will help with anything from security camera installation to doorbell installation. Our number one goal is to ensure you're feeling safe and satisfied.
Contact us online or give us a call at (404) 806-6851 for more information on our security camera and doorbell installation services, or to schedule an appointment with one of our skilled electricians.
Why Invest in a Home Security Camera System?
The reality of the world is that crime happens, and home security systems can help deter crime from affecting your home. 
From a minor package thief to a home invasion, security cameras can reveal the criminals at the scene. These systems are involved enough to alert first responders, so you'll know when something is wrong. Also, criminals will often avoid homes with noticeable security cameras, so you're less likely to be targeted.
To get the best results out of your system, call Aardvark Electric for security camera installation. It's vital that you have your system installed by a qualified electrician to ensure they're working correctly. Home camera systems set up by someone other than an expert might not capture any evidence, and you may not realize it until it's too late.
In some cases, your product's warranties state that a professional installation is required to protect that warranty. It's another excellent reason to go with Aardvark Electric for your security system installation.
Security Camera & Doorbell Installation
Are you planning to have a system installed in Atlanta, GA, but aren't sure where to start? Let Aardvark Electric take care of it for you. 
We specialize in Ring home security systems and Nest home security systems. But no matter what you end up selecting, we'll know how to give you a proper installation with our experience in the field of security camera & doorbell installation. 
Ring Home Security System
Ring is considered one of the most comprehensive security systems on the market. We're the experts at Ring camera installation, so if you've purchased a Ring home security system, we'll assist with services like:
Ring doorbell installation

Ring camera installation

Ongoing Ring doorbell or camera maintenance
Aardvark Electric experts can help set up your system, so it works with your mobile devices. We'll also work with you on finding the best location for your security system, so you get the maximum amount of coverage.
Nest Home Security System
Nest is another standard and recommended home security system. We've also trained our team on everything to know about Nest home security systems. Call our electricians for services like:
Nest doorbell installation

Nest camera installation

Ongoing Nest doorbell or camera maintenance
Nest systems can also be connected to smartphones, and setting this feature up is part of our installation process. We'll walk you through the system and how it works, so you can feel confident when we're done with your Nest doorbell installation.
Need an expert electrician in Atlanta? Call Aardvark Electric today at (404) 806-6851!
The Aardvark Electric Security Camera & Doorbell Installation Process
Now that you've learned what we're capable of, what does our installation process look like? Each process will vary depending on the system we'll be working with. But for a general idea, you can count on the following services from us no matter what brand of security system we're installing.
Fast Response Time
Once you've invested in a security system, we know you're ready to have it up and running. Our electricians don't waste a single moment, and they always come prepared. We'll always arrive at your home on schedule and do precisely what was asked of us to your complete satisfaction.
A Direct Approach
Aardvark Electric electricians value honesty and integrity. We care greatly about your needs, and we promise to make sure you're aware of everything we work on. Also, we'll always be upfront about pricing and make ourselves available for questions even after the installation is complete. 
With a thorough assessment of your home, your Aardvark Electric technician can give you an honest evaluation and tell you what the installation will entail.
Done Right the First Time
Installation services that aren't done correctly are a waste of time and money. But in the case of security, it can cost you a lot more. Our electricians take the work very seriously, ensuring that our experience guides us in bringing you a proper security camera & doorbell installation. We'll also configure everything to cater to your needs and show you how to operate and monitor your new security system.
Expert Attention and Maintenance
We're not the kind of company that stops at the security camera & doorbell installation. We know how much value ongoing maintenance can bring to your home's security. 
With a security camera & doorbell installation from Aardvark Electric, we'll set up maintenance visits. You'll also get an expert eye that can help install your system in the perfect spot in your home.
Secure Your Home with Security Camera & Doorbell Installation from Aardvark Electric
If you're looking to have a security camera system installed in Atlanta, GA, look no further than the team at Aardvark Electric. We're dedicated to handling everything from Ring doorbell installation to Nest camera installation and all of the parts in between. 
For more information on our security camera and doorbell installation services, or to schedule an appointment with one of our skilled electricians, contact us online or give us a call at (404) 806-6851.
We Are the Bright Choice
Learn What Aardvark Electric is Doing to Bring the Highest Quality to Your Home

Emergency Services
Family Owned & Operated
Same-Day Service
Up-Front Pricing
Satisfaction Guaranteed
Professionally Trained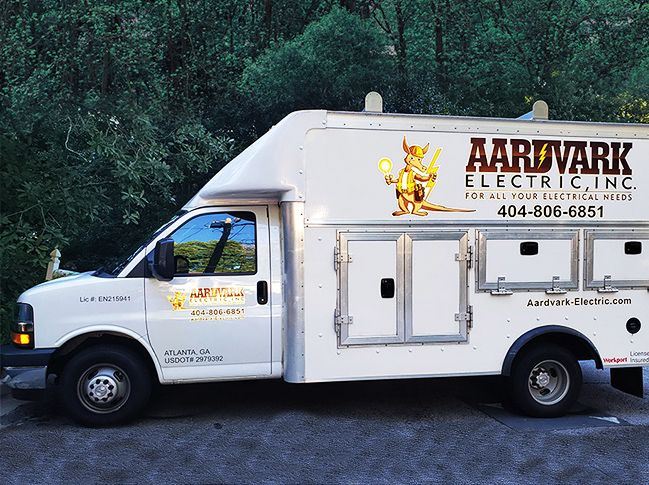 Request Your Service Today

Our team is here to help with all of your electrical needs!
Glowing Reviews
Read What Our Customers Are Saying About Our Service

Great Job
"He was very efficient and mindful of my tight schedule, which meant a lot! He was sure to clean up after himself"
- Happy Customer
We will not hesitate to call Aardvark in the future!
"Aardvark Electric responded promptly and professionally to our minor emergency. Elie was great from start to finish"
- Thankful Customer
Goes Above & Beyond
"Something the inspector missed was pointed out and easily corrected which makes me feel secure in the knowledge that I chose the best company for my needs."
- Satisfied Customer
Flip the Switch
Schedule your service by filling out this form or calling our office at (404) 882-9917.