Atlanta Storm Damage Electrical Repair
When nature strikes, it can be extremely destructive. Even small storms can cause widespread power outages. Coping with the aftermath of a storm and the resulting repairs and insurance claims can be difficult and frustrating, that is why Aardvark Electric, Inc. offers quick and effective electrical repairs in Atlanta to get your home back up and running in no time.
After a storm, call the most reliable electrical company in Atlanta. Our electricians will arrive at your door in no time. Call us today at

 

(404) 806-6851.
Common Electrical Storm Damage Repairs
While the electrical meter itself and the service lines are the property and responsibility of the utility, you (the customer) are responsible for the meter box, the riser, attachment hardware, and the weather head. Basically, if your meter box or the pole attached to it gets damaged, a certified electrician must restore the property to code before the power company can restore service.
Here are the most common types of electrical storm damage:
Power outages and downed power lines
Damaged electrical equipment and service panels
Outside electrical service damage:
Service conduit
Electrical meter
Main panel
Service entrance wires and hardware
Wiring and ground wiring
Riser and weather head
Dead outlets and ground fault circuit interrupters (GFCIs)
If your property is damaged after a storm in Atlanta, contact our certified electricians at Aardvark Electric, Inc. to get your power restored and home up to code in no time. We'll walk you through the entire process, including insurance claims, permits, and communication with the utility company. We proudly offer a 100% satisfaction guarantee on all our services, so you know your home is in good hands.
We Are the Bright Choice
Learn What Aardvark Electric is Doing to Bring the Highest Quality to Your Home

Emergency Services
Family Owned & Operated
Same-Day Service
Up-Front Pricing
Satisfaction Guaranteed
Professionally Trained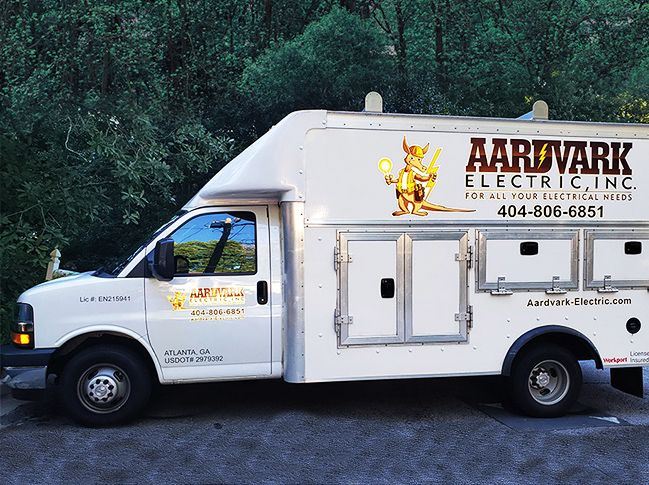 Request Your Service Today

Our team is here to help with all of your electrical needs!
Glowing Reviews
Read What Our Customers Are Saying About Our Service

Great Job
"He was very efficient and mindful of my tight schedule, which meant a lot! He was sure to clean up after himself"
- Happy Customer
We will not hesitate to call Aardvark in the future!
"Aardvark Electric responded promptly and professionally to our minor emergency. Elie was great from start to finish"
- Thankful Customer
Goes Above & Beyond
"Something the inspector missed was pointed out and easily corrected which makes me feel secure in the knowledge that I chose the best company for my needs."
- Satisfied Customer
Flip the Switch
Schedule your service by filling out this form or calling our office at (404) 806-6851.