Atlanta Briggs & Stratton Generator Experts
Exclusively Installing & Servicing Briggs & Stratton Generators
In September of 2017, more than 1.5 million people in Georgia lost power in the wake of Hurricane Irma. Some residents did not have their electricity restored for several days. In an emergency, a Briggs & Stratton generator can fill essential electric needs and help a family get back to normal, sooner. For safe use, it's best to consult a professional electrician first. For a trusted Atlanta Briggs & Stratton generator installation and Briggs and Stratton generator repair expert, contact Aardvark Electric, Inc. We are dedicated to providing products that our customers can rely on for years to come and we are proud to exclusively offer Briggs & Stratton brand generators. With a wide range of options, we can help you choose the right model for your household and get you ready to handle any emergency.
Call us at (404) 882-9917 and start considering your Briggs & Stratton generator options in Atlanta today.
Which Style Works Best for You?
Though Briggs & Stratton generators vary in size, fuel, and power capacity, they can be divided into the two main categories of standby and portable:
A standby

 

Briggs & Stratton

 

generator

 

is installed outside your home.

 

It can turn on automatically, when your power fails, meaning that you do not have to be home for it to activate. Typically, a permanent unit runs on propane or natural gas and is usually more expensive than portable generators.
Portable

 

Briggs & Stratton

 

generators

 

can use propane, natural gas, or even gasoline, but must be placed outside to disperse carbon monoxide. Appliances can be plugged directly into it, but to run something like your hot water heater that's wired into your house, you will need a professionally installed transfer switch, which will go next to your home circuit breaker.
Choosing a Briggs & Stratton Generator
If you've decided you want a generator from Briggs & Stratton, there are still options to consider. What model you choose will depend on your needs and preferences. One of our qualified Atlanta electricians can help you make your decision, so you find the perfect solution for your home.
When considering a Briggs & Strattongenerator purchase, ask yourself these questions:
Do you want the power capacity to run everything in your house, or only essential functions, like a water heater or refrigerator?

Where will your generator go? A permanent generator is, as you might guess, permanent, and needs a dedicated space in your yard. A portable generator can be stored in a garage or shed, but will need room outside when in use.

Will you be able to run a portable generator's cord to a transfer switch next to your circuit breaker?

Do you already have access to propane or natural gas to fuel your generator?

What kind of service or maintenance does the generator need to operate efficiently?
Trust Aardvark Electric, Inc.
Whether you want to install a permanent system to have on standby for emergencies, or you need a transfer switch safely installed for use with a portable generator by Briggs & Stratton, Aardvark Electric, Inc. can help. Our highly skilled Atlanta electrical team can help you consider your home and your needs, answer any questions you may have, and ensure the job is done right. If you're not satisfied, we'll make it right, or you'll have your money back, guaranteed. When it comes to emergencies, you know it's a matter of when not if. But when the crisis hits and your backup power comes safely on, you'll be glad you chose Aardvark Electric, Inc.
We Are the Bright Choice
Learn What Aardvark Electric is Doing to Bring the Highest Quality to Your Home

Emergency Services
Family Owned & Operated
Same-Day Service
Up-Front Pricing
Satisfaction Guaranteed
Professionally Trained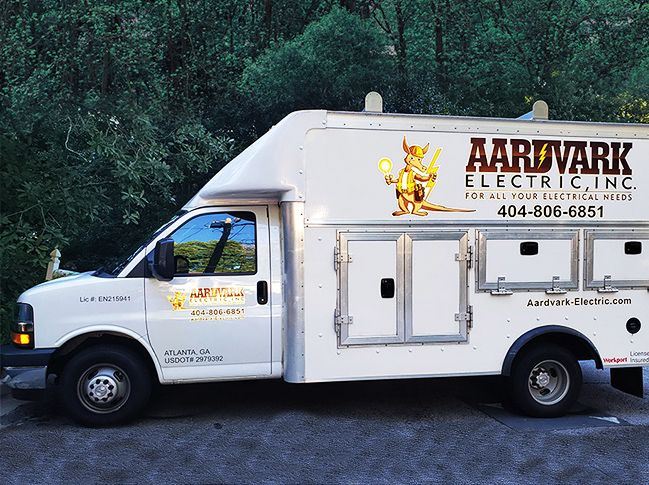 Request Your Service Today

Our team is here to help with all of your electrical needs!
Glowing Reviews
Read What Our Customers Are Saying About Our Service

Great Job
"He was very efficient and mindful of my tight schedule, which meant a lot! He was sure to clean up after himself"
- Happy Customer
We will not hesitate to call Aardvark in the future!
"Aardvark Electric responded promptly and professionally to our minor emergency. Elie was great from start to finish"
- Thankful Customer
Goes Above & Beyond
"Something the inspector missed was pointed out and easily corrected which makes me feel secure in the knowledge that I chose the best company for my needs."
- Satisfied Customer
Flip the Switch
Schedule your service by filling out this form or calling our office at (404) 882-9917.