Atlanta Panel Replacement & Repair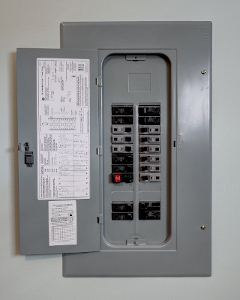 The electrical panel or box, also called a circuit breaker or fuse box is meant to interrupt electricity upon detection of a fault condition, such as a circuit overload, short circuit, or ground fault. The panel is probably the most important safety device in your home. If it weren't working to control and detect all the electricity in the home, electricity would be too dangerous to use on a practical basis. Panels are meant to last a long time, but it's important to have a professional electrician keep tabs on its condition. At Aardvark Electric, Inc., we understand the importance of your home's panel, and we work diligently to repair and replace electrical panels throughout Atlanta and the surrounding areas.
Call our experienced Atlanta electrical panel replacement team at

 

(404) 882-9917

 

today.
Panel Repair and Replacement Warning Signs
Do you keep overloading the circuit? Are you planning an addition or remodel? Have you noticed any signs of rust or damage to your electrical panel? If you answered yes to any of these questions, call a certified electrician in Atlanta as soon as possible to discuss your options. You may need to upgrade or replace your electrical panel. As the main hub of your electrical system, the condition of your electrical panel is most important. Never ignore signs of a constantly overloaded circuit or anything unusual about your electrical panel.
Signs you need panel service:
Zinsco or Federal Pacific (FPE) panel
Old, or outdated panels
Visible damage or corrosion on or near the panel
Different types of breakers or fuses are installed
Breakers trip or fuses blow frequently
Signs of rust or melting
Strange sounds, like hissing
Frequent power surges or flickering lights
General electrical problems
Strange smells like fish, rotten eggs, or burning plastic
Fuse boxes normally indicate a panel that is over 50 years old. If you have an older home that uses fuses instead of breakers, speak with a professional electrician about replacing it with a breaker panel. Contact the certified Atlanta electricians at Aardvark Electric, Inc. immediately if you have a Zinsco or Federal Pacific (FPE) panel, or if you suspect a dangerous condition, such as strange smells.
Expert Atlanta Circuit Breaker and Fuse Box Service
Gain peace of mind with expert electrical panel repairs and replacements from Aardvark Electric, Inc. We have been serving the Atlanta, GA area for decades and have the expertise and experience necessary to perform timely circuit breaker and fuse box repairs for your home or business.
For friendly and professional electrical safety inspections and panel upgrades, contact the insured electricians at Aardvark Electric, Inc. As with all of our services, we guarantee your complete satisfaction or your money back. Whether you need an electrical panel repair, maintenance, or replacement, trust our expert Atlanta electricians.
We Are the Bright Choice
Learn What Aardvark Electric is Doing to Bring the Highest Quality to Your Home

Emergency Services
Family Owned & Operated
Same-Day Service
Up-Front Pricing
Satisfaction Guaranteed
Professionally Trained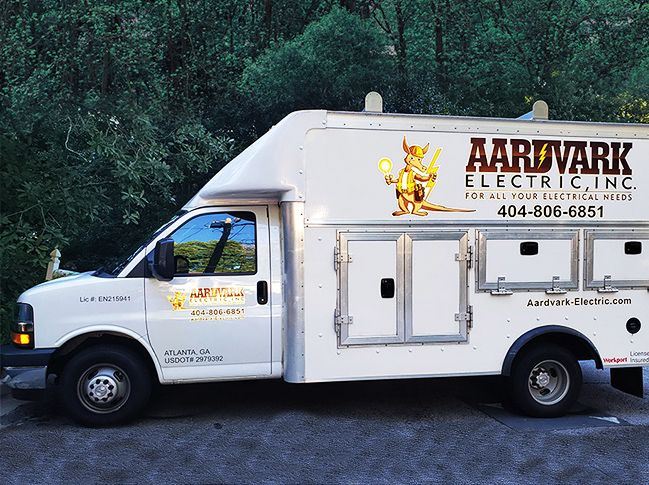 Request Your Service Today

Our team is here to help with all of your electrical needs!
Glowing Reviews
Read What Our Customers Are Saying About Our Service

Great Job
"He was very efficient and mindful of my tight schedule, which meant a lot! He was sure to clean up after himself"
- Happy Customer
We will not hesitate to call Aardvark in the future!
"Aardvark Electric responded promptly and professionally to our minor emergency. Elie was great from start to finish"
- Thankful Customer
Goes Above & Beyond
"Something the inspector missed was pointed out and easily corrected which makes me feel secure in the knowledge that I chose the best company for my needs."
- Satisfied Customer
Flip the Switch
Schedule your service by filling out this form or calling our office at (404) 882-9917.