Underground Wire Locating and Repair Services in Atlanta
When it comes to locating and repairing underground wiring, our qualified Atlanta electricians at Aardvark Electric, Inc. use state-of-the-art equipment to pinpoint the problem. We can use our wire and cable tracing equipment to find fault situations caused by splices, nicked wires, ground faults, and more. Then, we quickly repair the fault and restore the area to its original condition.
We can locate and repair underground wiring/cabling for anything, including:
Pole Lights
Landscape Lighting
Sub-Panel Feeders
To learn more about our underground repair services, call our Atlanta electrical wiring team today at

 

(404) 882-9917.
Locating Underground Wiring
At Aardvark Electric, Inc., we provide underground wire locating and repair service with our state-of-the-art equipment made by 3M™ Dynatel™. This allows us to trace underground wires and cables to find the damage or break (ground faults).
Our 3M™ Electronic Marker Systems can be used to locate:
Service drops
Buried transformers and splices
Street lighting
Distribution loops
Conduit stubs
Service laterals
Buried splices of all types
Buried service drops
Bends: changes of direction, arcs
Depth changes: lateral deflection
Fiber optic facilities with no metallic conductor
We have the ability to pinpoint the location of the damage to the wire. Once the broken wire is located it can be repaired instead of being replaced.
Underground Wiring Repair Throughout Atlanta
Using 3M™ Dynatel™ Locators and Markers, we are able to locate, mark, and map underground wiring. Once we've quickly pinpointed the underground assets, a proper underground wiring repair (splice) will last the life of the wire/cable. We use top-quality, rustproof splice kits to ensure a trouble-free, and long-lasting repair. When the repair is complete we test the wire to ensure that the insulation is in good condition.
The benefits of repairing a wire over replacing it include:
Cost of repairing the wire can be significantly less than the cost of replacing it.
Only the area above the break will need to be dug up for the repair. This will reduce or eliminate damage to landscaping and parking lots/driveways.
The repair can usually be completed in a few hours.
 Professional underground wire locating and repair is much better than re-trenching and/or re-installing new cabling/wiring, so let our highly trained Atlanta electrical wiring team save the day.
We Are the Bright Choice
Learn What Aardvark Electric is Doing to Bring the Highest Quality to Your Home

Emergency Services
Family Owned & Operated
Same-Day Service
Up-Front Pricing
Satisfaction Guaranteed
Professionally Trained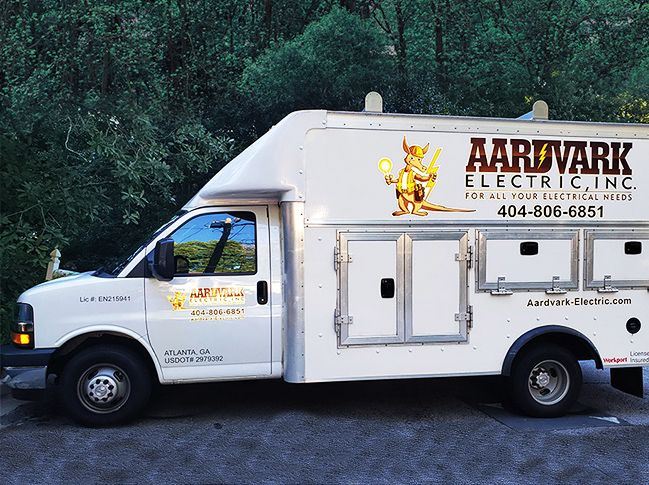 Request Your Service Today

Our team is here to help with all of your electrical needs!
Glowing Reviews
Read What Our Customers Are Saying About Our Service

Great Job
"He was very efficient and mindful of my tight schedule, which meant a lot! He was sure to clean up after himself"
- Happy Customer
We will not hesitate to call Aardvark in the future!
"Aardvark Electric responded promptly and professionally to our minor emergency. Elie was great from start to finish"
- Thankful Customer
Goes Above & Beyond
"Something the inspector missed was pointed out and easily corrected which makes me feel secure in the knowledge that I chose the best company for my needs."
- Satisfied Customer
Flip the Switch
Schedule your service by filling out this form or calling our office at (404) 882-9917.