Electrical Wiring & Rewiring Services in Atlanta, GA
The walls of your home do a decent job of hiding this fact, but all of the electrical components in your home are connected. The wiring in your home plays an essential role in distributing and routing electricity to the switches, outlets, fixtures, and appliances you use every day.
It's important for your home's electrical wiring to be safe and effective, while providing the appropriate capacity for individual circuits without posing a fire risk. For reliable wiring and rewiring, you can count on Aardvark Electric's electrical installation services.
Signs that You Need Rewiring
Of course, changes to your home's electrical system, like new electrical outlet installation, are going to require additional wiring. However, your home might also require rewiring after any electrical damage occurs to provide increased safety.
Faulty wiring presents a significant safety risk. Short-circuiting can occur in your home's wiring, allowing electricity to pass directly from live wires to neutral ones. In effect, this lets electricity run through the system without the resistance of any appliance load. So much electricity can pass through the wires that they overheat and start fires.
Ground faults can be just as serious and involve any situation where a live wire touches a ground wire or any external metal components. These faults can cause dangerous electric shocks, and they're why most new electrical outlet installations feature ground-fault circuit interrupters.
You can catch these issues early in many cases by keeping an eye out for these common signs of faulty wiring:
Strange Smells
Strange smells inside your home could be short-circuits burning away the insulation around individual wires. They present an immediate fire hazard.
Burn Marks
Burn marks on outlets are a clear sign that something is wrong with your home's wiring and that you should take immediate action.
Strange Sounds
Strange sounds coming from your walls, outlets, or switches can mean something is wrong. Humming may indicate faulty wiring, and popping noises are a sure sign of serious issues.
Rodent Damage
Signs of rodent damage in other areas in your home could give you a reason to be worried about your wiring. Rodents often chew wiring and can cause short circuits.
If you have noticed any of these signs, you should reach out to Aardvark Electric. One of our certified electricians will be able to determine what's wrong with your home's electrical system and provide a reliable quote on rewiring and other repairs.
Wiring for New Electrical Installations
Whenever you're installing a new electrical component of any kind, there will be some wiring work involved. Outlets, lighting, appliances, and anything else electric needs have wiring that runs back to the electrical panel to work.
Every electrical installation is going to be unique. Our experienced team can evaluate your current system and let you know what your best options will be. We can only do wiring by removing drywall in many cases, but sometimes alternative options are available.
To carry out our electrical installation services, we'll need to connect the new outlet or fixture to your home's electrical system. Ideally, we'll be able to attach it to an existing circuit rather than running new wiring all the way to the electrical panel.
Every circuit only has so much capacity, and adding another outlet could be just what it takes to overload the circuit. That means you'll be tripping the circuit breaker every time you go to use too many things on the same circuit at once.
The team at Aardvark Electric can set up new circuits from your existing panel. We might also find that your electrical panel has reached its total capacity, either in terms of amperage or available slots. In either case, Aardvark Electric can provide electrical panel installation.
Our electrical panel installations are carried out safely and reliably to ensure that you have a reliable power source for years to come. We can even plan for future demand to ensure that you don't run into the same problem again a few years down the road.
Professional Electrical Installations
Whenever you need wiring or rewiring for a new installation or to repair faulty wiring, you should call a trusted professional electrician. Handling electrical work can be dangerous if you're not experienced. Moreover, our team has the tools and knowledge to manage all of your electrical wiring and installation needs while having a minimal impact on your home.
Aardvark Electric is equipped to handle all types of electrical installations, and can put in place safe and reliable wiring for any of your electrical needs. Outlets, lighting, and more, our experienced team can provide you with a reliable quote on your next electrical project. Just reach out today to find out what we can do for you. Contact us online or call (404) 596-4722 to schedule an appointment.
For more information about our electrical wiring and rewiring services, contact us today. Call our team at (404) 882-9917 or contact us online to schedule an appointment.
We Are the Bright Choice
Learn What Aardvark Electric is Doing to Bring the Highest Quality to Your Home

Emergency Services
Family Owned & Operated
Same-Day Service
Up-Front Pricing
Satisfaction Guaranteed
Professionally Trained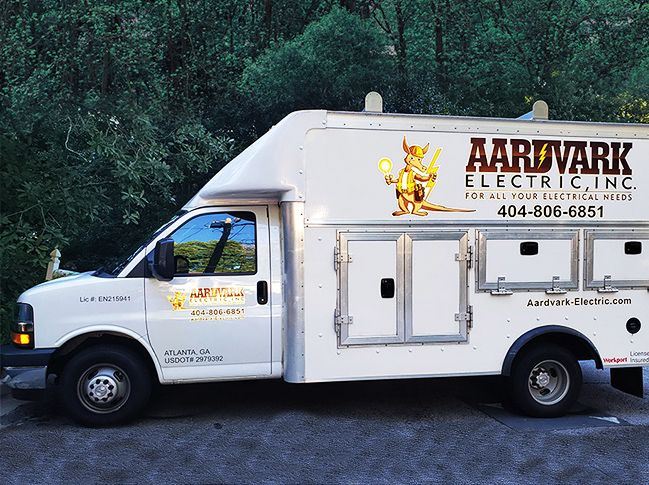 Request Your Service Today

Our team is here to help with all of your electrical needs!
Glowing Reviews
Read What Our Customers Are Saying About Our Service

Great Job
"He was very efficient and mindful of my tight schedule, which meant a lot! He was sure to clean up after himself"
- Happy Customer
We will not hesitate to call Aardvark in the future!
"Aardvark Electric responded promptly and professionally to our minor emergency. Elie was great from start to finish"
- Thankful Customer
Goes Above & Beyond
"Something the inspector missed was pointed out and easily corrected which makes me feel secure in the knowledge that I chose the best company for my needs."
- Satisfied Customer
Flip the Switch
Schedule your service by filling out this form or calling our office at (404) 882-9917.