Electrical Service Repairs and Upgrades in Atlanta
Get your electrical project completed on time with no surprises. At Aardvark Electric, Inc., our highly trained electricians are determined to solve all your electrical needs with upfront pricing and quick, clean, and customized services.
If you're looking for the right team of professional electricians to handle your next residential electrical project, Aardvark Electric, Inc. is the most trusted company in Atlanta. We arrive on time in a fully stocked vehicle, for efficient service with unbeatable results.
Electrical Service Upgrades
In the past, the electrical needs of your home were not nearly as extensive, with properties using only a 60Amp circuit. Today, homes are powered by as many as 200Amps. If you are experiencing frequent tripping breakers and need more power, you might need to upgrade your existing electrical panel with a larger-amp panel. If your electrical system is outdated, you may also need to upgrade the wiring.
At Aardvark Electric, Inc., we do more than the bare minimum, which is why we happily upgrade systems to create a more convenient and more beautiful home.
Our electrical upgrades include:
Dimmer switches
Surge protectors
Smart home devices
LED lighting
Home automation systems
Indoor and outdoor lighting
And more!
Whether you need to add or remove an outlet, troubleshoot faulty switches, or make your home appliances more functional and efficient, Aardvark Electric, Inc. has you covered with highly trained and insured electricians and a 100% money-back guarantee.
Professional Electrical Repairs in Atlanta
Think of Aardvark Electric, Inc. as your one-stop shop for all things electrical. We can help you choose from a wide variety of electrical products, that are designed to improve energy efficiency and increase safety. With professional repairs and upgrades, your new lights, appliances, or wiring will provide your home years of reliable service.
Our electrical repair services include:
Wiring and rewiring
Outlet, switches, and fixtures
Indoor and outdoor lighting
Circuit breakers and fuses
Panels and sub-panels
Electrical meters
Renovations and additions
Low-voltage systems
For more information about our electrical repairs and upgrades, contact us today. Call our team at (404) 882-9917 or contact us online to schedule an appointment.
We Are the Bright Choice
Learn What Aardvark Electric is Doing to Bring the Highest Quality to Your Home

Emergency Services
Family Owned & Operated
Same-Day Service
Up-Front Pricing
Satisfaction Guaranteed
Professionally Trained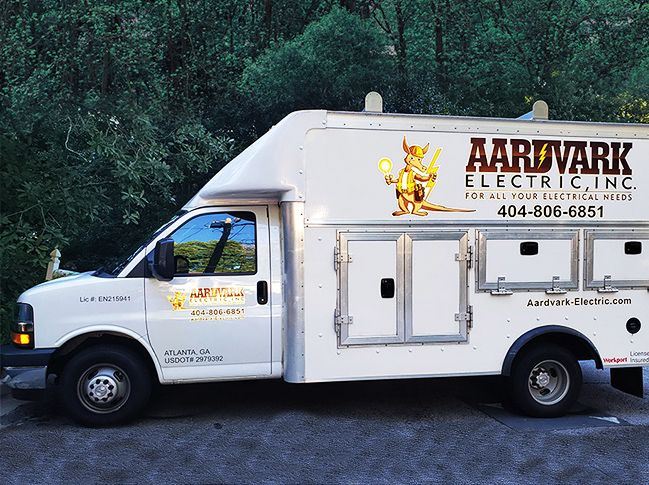 Request Your Service Today

Our team is here to help with all of your electrical needs!
Glowing Reviews
Read What Our Customers Are Saying About Our Service

Great Job
"He was very efficient and mindful of my tight schedule, which meant a lot! He was sure to clean up after himself"
- Happy Customer
We will not hesitate to call Aardvark in the future!
"Aardvark Electric responded promptly and professionally to our minor emergency. Elie was great from start to finish"
- Thankful Customer
Goes Above & Beyond
"Something the inspector missed was pointed out and easily corrected which makes me feel secure in the knowledge that I chose the best company for my needs."
- Satisfied Customer
Flip the Switch
Schedule your service by filling out this form or calling our office at (404) 882-9917.