Electrical Repair Services in Atlanta, GA
Electrical issues can sometimes appear without warning. When they do, it's important to have a residential electrical repair expert you can count on to address the problem immediately. 
That's why we offer live customer support and after-hours emergency services. Aardvark Electric's electricians can quickly take care of any electrical repair issues that you encounter.
Electrical Panel Repair
The electrical panel in your home or business is the heart of all of your electrical systems. It ensures that power is safely and effectively delivered to every outlet and fixture. When you notice any of the following, give us a call:
Flickering lights

Tripped breakers

Appliances not running at full capacity

Hot breaker switches

Buzzing noises
We will send a highly-skilled electrician to review the problem and let you know your electrical panel repair or upgrade options.
Flickering lights

Tripped breakers

Appliances not running at full capacity

Hot breaker switches

Buzzing noises
We will send a highly-skilled electrician to review the problem and let you know your electrical panel repair or upgrade options.
Electrical Outlet Repair
When electrical switches and outlets don't work as they should, neither do the lights or appliances that are connected to them. What seems like a small problem can truly create a major inconvenience. 
Remember that trouble with an outlet or switch can also indicate that something more serious could be wrong with the electrical wiring in your walls. This type of hidden problem could create a fire hazard.
Fortunately, electrical outlet repair jobs are something we handle daily. Just let us know if you've noticed loose plugs, lights that don't respond to switches, or other issues. We'll send an electrical repair expert with a fully stocked truck to fix the problem in no time.
Residential Electrical Repair and Troubleshooting
Do you need help with some other electrical repair? Aardvark Electric is here to help. We're your source for trusted electricians and residential electrical repairs of all types. This includes taking care of electrical repair issues that are unique to the needs of modern homes.
Ceiling Fan and Electrical Lighting Repair
You invest money in lights and other fixtures to make your home attractive and comfortable. It's frustrating when they don't work. If your lights and ceiling fans are showing signs of trouble, we can help. An electrician will come to your home to troubleshoot the issue and get things repaired quickly.
Smoke Detector and CO Detector Repair
Your smoke and CO detectors must work 100% of the time. If your detectors ever fail a monthly test, or you have any concerns about their operation, please don't hesitate to call us. Whether the issue is with wiring, the battery, or the detector itself, we can help with a repair or upgrade.
Emergency Electrical Repair
Your safety and comfort are important to us. We understand that some electrical repair requests can't wait for standard business hours. 
Because of this, we gladly offer emergency electrical repair for your home or business. We're happy to send out trained technicians any time of day to protect your home from the hazards that can result from electrical issues.
Electric Vehicle Charging Outlet Repair
As more people upgrade to fully electric vehicles, they are having their homes equipped with electric vehicle chargers. We are proud to offer EV charger installation services. In addition to this, if something ever goes wrong with your home charging station, we can troubleshoot and repair the issue.
Fault Detection and Repair
Some electrical repair issues aren't easy to detect. For example, there may be problems with old wiring deep within your walls or even underground. Additionally, a smart device or appliance may detect electrical issues and "throw a code" indicating something is wrong.
No need to worry, just give us a call! We are experts at investigating these issues, finding the problem, and getting things fixed right away. We'll even take on the issues that other electricians just can't figure out.
Satisfaction Guaranteed on Every Electrical Repair Job
We've earned an excellent reputation as a trusted provider of home electrical repair in the Atlanta area. Every electrical repair job we perform is backed with a 100% satisfaction guarantee. In addition to this, our customers know that every call for electrical repair will be answered by a uniformed, licensed, experienced electrician.
When you contact Aardvark Electric for residential electrical repair, expect to be treated with courtesy and professionalism every step of the way. That includes a courtesy call before and after service, live agents to answer your calls, and polite electricians who communicate openly during every step of the repair process.
If you'd like to learn more about our electrical repair services, or to schedule a service, give us a call at (404) 596-4722 or contact us online. We look forward to working with you.
We Are the Bright Choice
Learn What Aardvark Electric is Doing to Bring the Highest Quality to Your Home

Emergency Services
Family Owned & Operated
Same-Day Service
Up-Front Pricing
Satisfaction Guaranteed
Professionally Trained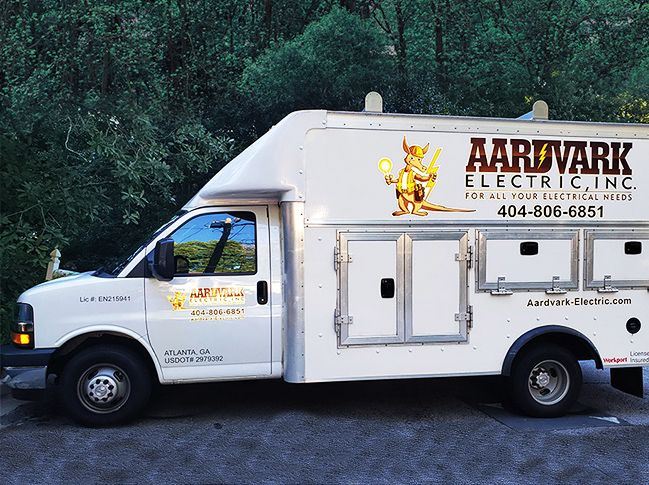 Request Your Service Today

Our team is here to help with all of your electrical needs!
Glowing Reviews
Read What Our Customers Are Saying About Our Service

Great Job
"He was very efficient and mindful of my tight schedule, which meant a lot! He was sure to clean up after himself"
- Happy Customer
We will not hesitate to call Aardvark in the future!
"Aardvark Electric responded promptly and professionally to our minor emergency. Elie was great from start to finish"
- Thankful Customer
Goes Above & Beyond
"Something the inspector missed was pointed out and easily corrected which makes me feel secure in the knowledge that I chose the best company for my needs."
- Satisfied Customer
Flip the Switch
Schedule your service by filling out this form or calling our office at (404) 882-9917.