Surge Protection for Your Atlanta Home
Think of all of the expensive appliances and electronics plugged into your electrical system — refrigerators, computers, entertainment systems, and more. Without a panel surge protector, one strong surge can damage or destroy anything that's plugged in. At Aardvark Electric, Inc., we know how important your electronics are, and work diligently to keep your property protected.
Why You Need Surge Protection
Did you know that the average North American home can face 5 or more electrical surges per day? Power surges can come from a variety of sources, including power grid switching, lightning, and when large appliances like HVAC systems switch on and off. Many small surges go through your electrical system every day.
Not all surges are large but the damage can be cumulative. While large power surges can automatically destroy electrical equipment, smaller surges tend to cause damage over time. Smaller power surges are especially harmful to sensitive electrical equipment, circuitry, and microchips.
That's why you need whole-home surge protection. It protects everything electrical attached to your house. Most people employ this solution on their computers and TVs but have no protection for their major appliances (i.e. air conditioner, refrigerator, stove, and oven.) It's much less expensive to invest in whole-building surge protection for your home or business than it is to replace damaged and destroyed data, appliances, and electronics.
Service Entrance Surge Protection
A service entrance surge protection solution is normally installed in your main electrical panel or at the base of your electric meter. This provides surge protection for the entire electrical system, including lights and other hardwired items. If you have plug-in surge protectors, you get added protection. We use the premium surge protectors made by Eaton to protect your whole house or building. These come with a $75,000.00 manufacturer warranty which protects your connected appliances.
Call us today to set up an appointment and have one of our expert technicians come out and go over surge protection options with you. Dial (404) 882-9917 or contact us online today.
We Are the Bright Choice
Learn What Aardvark Electric is Doing to Bring the Highest Quality to Your Home

Emergency Services
Family Owned & Operated
Same-Day Service
Up-Front Pricing
Satisfaction Guaranteed
Professionally Trained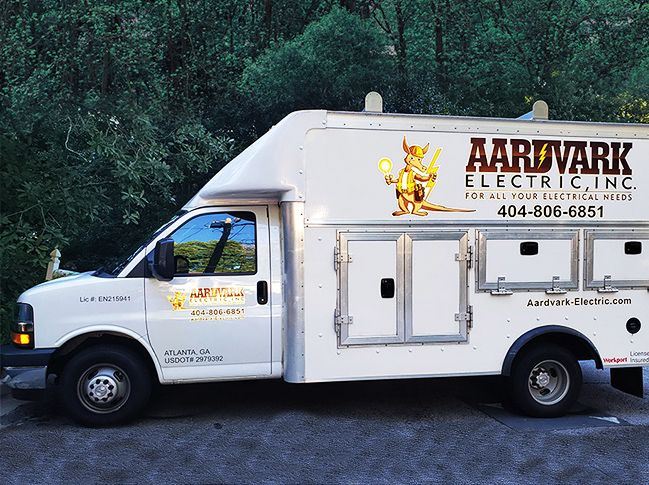 Request Your Service Today

Our team is here to help with all of your electrical needs!
Glowing Reviews
Read What Our Customers Are Saying About Our Service

Great Job
"He was very efficient and mindful of my tight schedule, which meant a lot! He was sure to clean up after himself"
- Happy Customer
We will not hesitate to call Aardvark in the future!
"Aardvark Electric responded promptly and professionally to our minor emergency. Elie was great from start to finish"
- Thankful Customer
Goes Above & Beyond
"Something the inspector missed was pointed out and easily corrected which makes me feel secure in the knowledge that I chose the best company for my needs."
- Satisfied Customer
Flip the Switch
Schedule your service by filling out this form or calling our office at (404) 882-9917.