Atlanta Overheating Meter Socket Repair Services
Finding & Fixing "Hot Sockets" Before They Cause Real Damage
An overheating meter socket, also referred to as a "hot socket," is one of the most dangerous things we can find when testing meters. Hot sockets can cause numerous safety hazards, the most serious of which are electrical fires, which could often be avoided by taking a little extra time and care to find and address these issues. At Aardvark Electric, Inc., we have extensive experience in handling overheated meter socket repairs in Atlanta and beyond.
Learn more about how we can assist you by contacting our office today! We are dedicated to providing quality service that keeps you and your family safe.
What Is a Hot Socket?
When there are loose connections in the meter socket, the poorly channeled electricity can cause the meter to overheat. The longer these overheating meter sockets are left untreated, the greater the danger becomes. Indeed, these problems are the cause of as many as 1,000 electrical fires every year. The good news is, hazards like these can be avoided by ensuring you bring in expert professionals to perform proper meter testing using the correct equipment.
Some of the most common causes of hot sockets include:
Loose connections: This can happen as a result of improper installation or over time due to wear and tear. When the connection is not tightened properly, the resulting micro-arcs cause it to overheat.

Wear and tear on the terminal: In a majority of meter bases, spring-loaded jaws are used to hold the meter in place. The more the meter is removed and replaced, the springs grow slack and the same micro-arcs are liable to occur.

Temperature fluctuations: When the meter housing expands and contracts with the weather, it can cause the jaws to lose tension and result in a loose connection.
Identifying Overheated Meter Sockets
Homeowners experiencing this problem often report that their lights have begun to flicker or dim on a regular basis. However, rather than attempting to confirm this diagnosis on your own, it is strongly recommended that you bring in a team of experts who are trained to safely deal with electrical systems.
A qualified professional may look for the following signs of damage:
Damage to the jaws, which may include discoloration, pitting, or poor tension on the spring

Melted wires

Discolored meter blades

Energy meter registering an above-average output
Offering Safety & Peace of Mind
If you are concerned about the safety of your meter, getting routine testing and maintenance from our skilled team is the best way to go. At Aardvark Electric, Inc., we strive constantly to offer the highest quality customer service and workmanship available anywhere.
Call our Atlanta overheated meter socket repair team at
(404) 806-6851
today!
We Are the Bright Choice
Learn What Aardvark Electric is Doing to Bring the Highest Quality to Your Home

Emergency Services
Family Owned & Operated
Same-Day Service
Up-Front Pricing
Satisfaction Guaranteed
Professionally Trained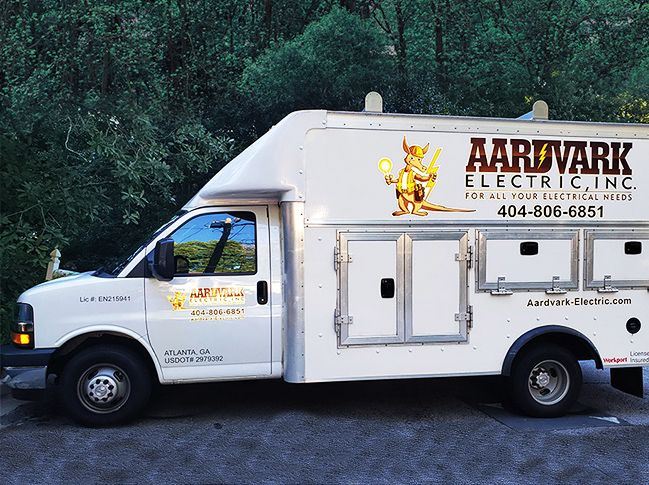 Request Your Service Today

Our team is here to help with all of your electrical needs!
Glowing Reviews
Read What Our Customers Are Saying About Our Service

Great Job
"He was very efficient and mindful of my tight schedule, which meant a lot! He was sure to clean up after himself"
- Happy Customer
We will not hesitate to call Aardvark in the future!
"Aardvark Electric responded promptly and professionally to our minor emergency. Elie was great from start to finish"
- Thankful Customer
Goes Above & Beyond
"Something the inspector missed was pointed out and easily corrected which makes me feel secure in the knowledge that I chose the best company for my needs."
- Satisfied Customer
Flip the Switch
Schedule your service by filling out this form or calling our office at (404) 806-6851.