Atlanta Electrical Safety Inspections
The Leading Experts on Electrical Safety
Though electricity in the home is always installed to perform perfectly, problems can still arise. Overloaded circuits, old wiring, or even a misplaced staple can mean your home is in danger of fire or other damage. Electrical codes are updated often to prevent these possible hazards. It's important to schedule regular electrical safety inspections to make sure you are up to the most recent codes and to find any issues with your unique system.
Let Aardvark Electric, Inc. conduct an electrical safety inspection for your home. Our expert Atlanta electricians will check your entire electrical system to make sure it is running at maximum safety and efficiency.
To schedule an Atlanta electrical inspection, call Aardvark Electric, Inc. at

 

(404) 882-9917.
Electrical Safety Inspection Checklist
It takes a trained electrician to find and correct problems with a home electrical system. At Aardvark Electric, Inc., we favor a systematic approach. Though each home is unique, our Atlanta electrical inspection experts start by checking over the most common problem areas in the home.
During your electrical inspection in Atlanta, our trained technicians will check for the following:
Service panel problems
Proper grounding system
GFCI and AFCI function
Proper placement of smoke and carbon monoxide detectors
Appliance safety, including water heater, washer/dryer, and HVAC system
Exposed wiring, fraying, splices, and unsafe connections
Georgia Code Requirements
The National Fire Protection Association's National Electrical Code, which is mandatory in Georgia, has been updated for 2020, and individual cities may have further restrictions that they enforce. Our technicians are completely trained on these new codes and will help keep your electrical systems up to code. Additionally, all of our electrical repairs comply with recent electrical code requirements.
For friendly and professional electrical safety inspections, contact the insured electricians at Aardvark Electric. As with all of our services, we guarantee your complete satisfaction or your money back.
We Are the Bright Choice
Learn What Aardvark Electric is Doing to Bring the Highest Quality to Your Home

Emergency Services
Family Owned & Operated
Same-Day Service
Up-Front Pricing
Satisfaction Guaranteed
Professionally Trained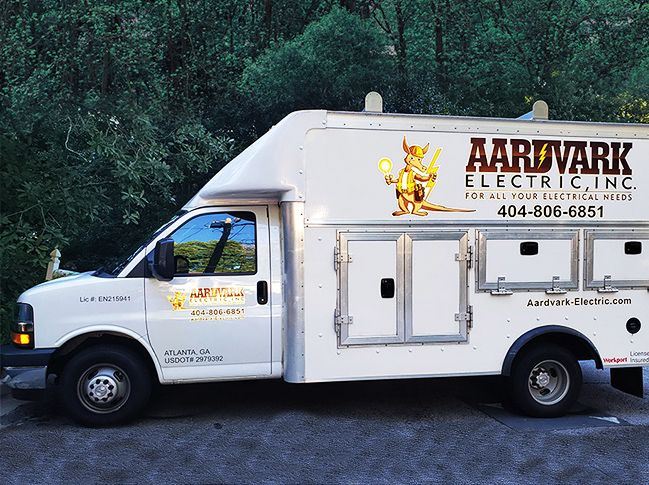 Request Your Service Today

Our team is here to help with all of your electrical needs!
Glowing Reviews
Read What Our Customers Are Saying About Our Service

Great Job
"He was very efficient and mindful of my tight schedule, which meant a lot! He was sure to clean up after himself"
- Happy Customer
We will not hesitate to call Aardvark in the future!
"Aardvark Electric responded promptly and professionally to our minor emergency. Elie was great from start to finish"
- Thankful Customer
Goes Above & Beyond
"Something the inspector missed was pointed out and easily corrected which makes me feel secure in the knowledge that I chose the best company for my needs."
- Satisfied Customer
Flip the Switch
Schedule your service by filling out this form or calling our office at (404) 882-9917.