Residential Electrician in Atlanta, GA
Teaming up with a licensed electrician can help homeowners in Atlanta, GA, keep their homes safely powered. Power is not just about keeping your phone charged or your TV on. It's also about keeping your home safe with security features or comfortable with climate control systems. And with our reliance on appliances and electronics growing by the day, it's always good to know who to call whenever you need residential electrical services.
The certified electricians at Aardvark Electric know how essential power is to homeowners. From recreation to peace of mind, our residential electricians in Atlanta, GA, have you covered, so you'll always be the one with the power.
Contact us online or give us a call at (404) 806-6851 for more information on our residential electrical services in Atlanta, or to schedule an appointment with one of our skilled electricians.
When to Call Your Residential Electrician in Atlanta
Your home's electrical system is a complex combination of wires, switches, outlets, and other components. It's always recommended to call a certified electrician should you suspect that something's not quite right with your electrical system. Attempting a DIY fix is incredibly risky, both for your budget and your safety. When in doubt, call Aardvark Electric when you need an electrician for residential services.
How do you know it's time to call your residential electrician in Atlanta? It won't always be obvious to the average homeowner when there's an electrical problem lurking. You'll want to look for signs like:
Power surging or fluctuating

Noticeably frayed or broken wires

Burning smells coming from electrical parts

Frequently tripped breakers or fuses

Warm, sparking, or otherwise broken outlets

Flickering lights
Some of these problems could start small, but many can easily pick up momentum without warning and cause significant issues in your home. Electrical issues can disrupt the flow of your day and cause harm if you don't address them. 
Call Aardvark Electric if problems with your home's electricity are resulting in any of these symptoms, and we'll send out a licensed electrician to get to the bottom of it. Your safety matters more than anything else!
Electrical Upgrades from Your Residential Electrician
Some of the older Atlanta, GA, homes' electrical systems might not be able to keep up with the demand put on them by modern technology. You might find yourself in a situation where multiple running appliances can cause a multitude of issues that range from frustrating to dangerous. Sometimes the best answer is to upgrade your home's electrical network with a bit of help from your local electricians.
Aardvark Electric has plenty of experience upgrading older homes to meet the requirements of the people living in them. We'll safely upgrade your home's electrical equipment so that you'll never again have to choose whether to run the dishwasher or the dryer. 
Need a trusted residential electrician in Atlanta? Call Aardvark Electric today at (404) 806-6851!
Installing New Electrical Fixtures
An upgrade doesn't have to always come in the form of a substantial whole-home overhaul. New ceiling fans, outdoor lighting, or other fixtures involving your home's electrical system add a fantastic ambiance and functionality that can change the entire look and feel of a space. However, they are dangerous for homeowners to install by themselves. That's where Aardvark Electric comes in.
Are you finding yourself running out of outlets? The appliances you use daily might be increasing, but if the number of outlets in your home stays the same, you might need to give us a call. Having new outlets installed is safer and more aesthetically pleasing than jumbled surge protectors and extension cords. 
You could also invest in whole-house surge protection, which adds another layer of safety to the modern, appliance-heavy household. Our electricians can install these systems to give you extra protection from house fires.
We're also available should you need to have special outlets, such as GFCI outlets, installed in your home. These outlets protect you and your family from electrical shock in areas where electricity might come in contact with moisture, such as bathrooms or kitchens. Older homes may not have these in spaces where they're required, and many homes that do have them may need them replaced. We can assist you with both of these situations.
Our local electricians have worked with virtually every ceiling fan, outlet, lighting, or other electrical feature imaginable. And we're ready to help by offering you complete, safe, and effective residential electrical services!
Emergency Electrical Services
Even if you manage to do everything right, sometimes things will go wrong with your electrical system. In these instances, getting in touch with an electrician for residential assistance is critical to your home's and family's health and well-being. If it's time to call an emergency electrician, you're already running out of time.
Aardvark Electric understands that swiftness and efficiency mean everything when it comes to emergency services and repairs. It's why our electricians train tirelessly to be able to diagnose and handle various electrical problems with such ease. So whenever you need an emergency electrician, think of Aardvark Electric, and we'll be there to provide safe, long-lasting solutions.
Our Residential Electricians of Aardvark Electric Are at Your Service
Electricity is power, and you deserve to have all of the power! We're the premier residential electricians of Atlanta, GA, ready to prove it to you! Anytime you need anything, from a quick repair to a whole-home electrical upgrade, you'll find that Aardvark Electric will continue to deliver in ways other companies can't. Call our team today to get started on your journey with us. We're ready to help!
For more information on our residential electrical services in Atlanta, or to schedule an appointment with one of our skilled electricians, contact us online or give us a call at (404) 806-6851.
We Are the Bright Choice
Learn What Aardvark Electric is Doing to Bring the Highest Quality to Your Home

Emergency Services
Family Owned & Operated
Same-Day Service
Up-Front Pricing
Satisfaction Guaranteed
Professionally Trained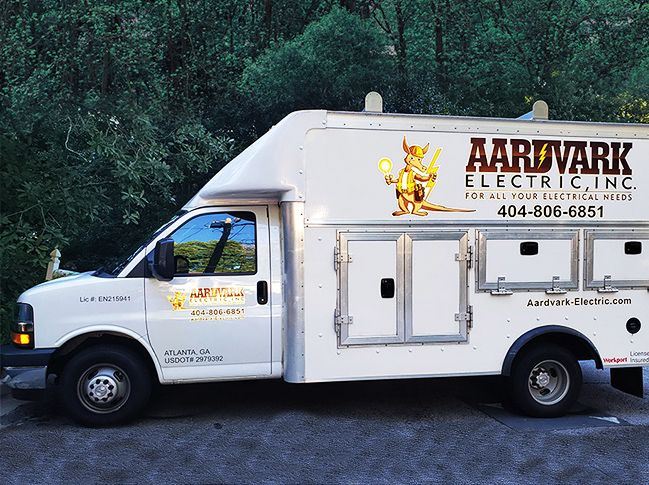 Request Your Service Today

Our team is here to help with all of your electrical needs!
Glowing Reviews
Read What Our Customers Are Saying About Our Service

Great Job
"He was very efficient and mindful of my tight schedule, which meant a lot! He was sure to clean up after himself"
- Happy Customer
We will not hesitate to call Aardvark in the future!
"Aardvark Electric responded promptly and professionally to our minor emergency. Elie was great from start to finish"
- Thankful Customer
Goes Above & Beyond
"Something the inspector missed was pointed out and easily corrected which makes me feel secure in the knowledge that I chose the best company for my needs."
- Satisfied Customer
Flip the Switch
Schedule your service by filling out this form or calling our office at (404) 882-9917.