After-Hours Electrical Emergency Service in Atlanta
For professional emergency electrical service for all Atlanta and the surrounding area, contact the master electricians at Aardvark Electric, Inc. Electrical systems can turn into a dangerous situation fast, which is why we offer after-hours electrical service when you need emergency repair. From faulty fixtures to short circuits and ground faults, when you need emergency electrical troubleshooting and repair, contact Aardvark Electric, Inc. today.
Call our team today at

 

(404) 882-9917

 

to schedule your emergency electrical service in Atlanta, GA .
5 Signs You Need an Emergency Electricians
Small problems can quickly turn into serious issues. Don't get caught off guard by your electrical system. Our experienced electricians have noticed 5 common issues that require immediate service.
5 signs you need electrical repairs:
Strange smells such as burning plastic around electrical equipment
Burnt or scorched outlets, switches, and other electrical equipment
Visible sparks and live wires
Popping or buzzing sounds
Old or aged wiring
Light dimming or going out when large appliances are turned on
Emergency Electrical for Your Atlanta Home
Aardvark Electric is proud to offer After-Hours Electrical Service to all of Atlanta and the surrounding area. All of our electricians are highly trained, background checked, and drug tested for your safety and comfort.
We promise to be prompt and professional and offer the following guarantees as assurance:
100% Satisfaction Guarantee
Fully Insured in Georgia
Live Call Center (No Machines)
Courtesy Call Before Arrival
Courtesy Call After Service
Financing Available
We provide specialized repair and installation services you can't find at other local electrical companies, such as appliance circuits, backup generators, and whole-home surge protection.
Our expert team of Atlanta emergency electrical service specialists will always be able to troubleshoot and fix your problem correctly. We triple check our work and use state-of-the-art equipment to make sure you are receiving the highest standards in the industry.
We Are the Bright Choice
Learn What Aardvark Electric is Doing to Bring the Highest Quality to Your Home

Emergency Services
Family Owned & Operated
Same-Day Service
Up-Front Pricing
Satisfaction Guaranteed
Professionally Trained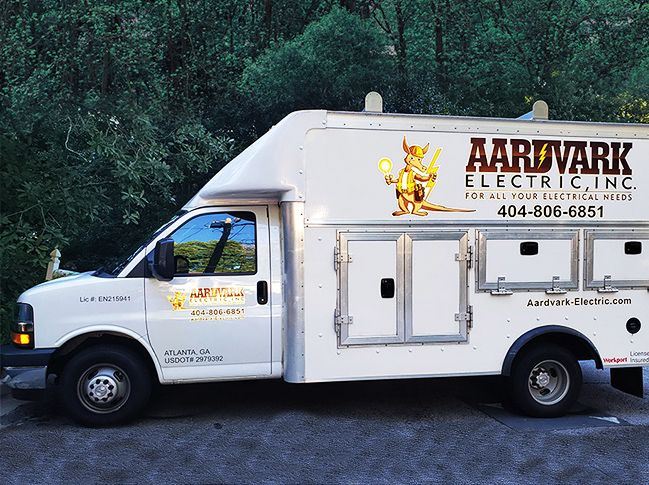 Request Your Service Today

Our team is here to help with all of your electrical needs!
Glowing Reviews
Read What Our Customers Are Saying About Our Service

Great Job
"He was very efficient and mindful of my tight schedule, which meant a lot! He was sure to clean up after himself"
- Happy Customer
We will not hesitate to call Aardvark in the future!
"Aardvark Electric responded promptly and professionally to our minor emergency. Elie was great from start to finish"
- Thankful Customer
Goes Above & Beyond
"Something the inspector missed was pointed out and easily corrected which makes me feel secure in the knowledge that I chose the best company for my needs."
- Satisfied Customer
Flip the Switch
Schedule your service by filling out this form or calling our office at (404) 882-9917.