Atlanta Electrical Troubleshooting
Electrical Troubleshooting, Diagnosis, & Repair
Some signs of electrical trouble are difficult to spot unless you know what to look for. Others, like sparks or smoke when using an outlet, say clearly that you need electrical help. As soon as you encounter an electrical problem in your home, call the trusted electricians at Aardvark Electric, Inc. Our job is to provide expert diagnosis and repair as quickly as possible. We are committed to exceeding all expectations for electrical and customer service and offer a 100% satisfaction guarantee on all our services.
If you're in need of Atlanta electrical troubleshooting, call us at

 

(404) 806-6851

 

right away.
Signs of Trouble
Some electrical problems can be fixed quickly, but even something small, like a flipped breaker, could be indicative of a larger problem. A breaker flips when you attempt to draw too much electricity through one circuit, possibly from having several appliances or devices plugged in at once. If this happens, it's not necessarily a sign of trouble; you only need to unplug some of these components and switch the breaker back on. However, if this happens frequently, it could be a sign that something's wrong.
Here are some more signs of electrical problems to watch out for:
Hot outlet plates or switch covers
Receiving shocks from any metal element of your home's infrastructure
Frequent surges or dips in power
Flickering lights
Light bulbs constantly burning out
A burning smell when electrical appliances are in use
Popping or sparking outlets
Even if the problem seems minor, it is better to be safe than sorry. Contact an Atlanta electrical troubleshooting expert right away.
Committed to Quality
If you're experiencing any electrical problems in your Atlanta home, contact the experts at Aardvark Electric, Inc. Each of our insured electricians have the expertise and experience necessary to properly troubleshoot your electrical issue and educate you on all the available options.
Where electricity is concerned, the last thing you want to do is try and investigate the problem on your own. Call an Atlanta electrical troubleshooting expert today!
We Are the Bright Choice
Learn What Aardvark Electric is Doing to Bring the Highest Quality to Your Home

Emergency Services
Family Owned & Operated
Same-Day Service
Up-Front Pricing
Satisfaction Guaranteed
Professionally Trained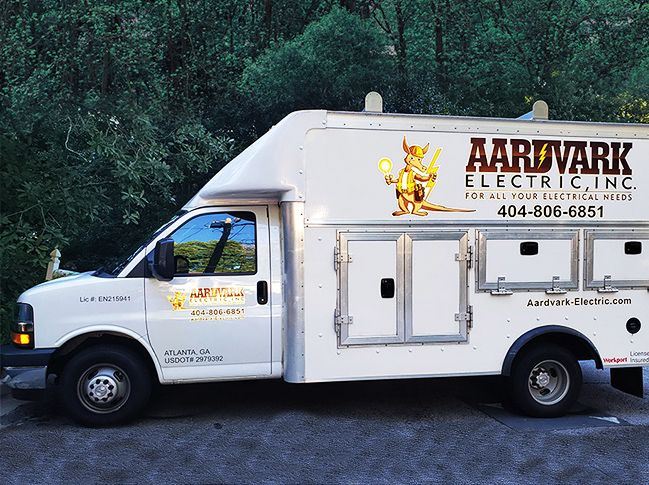 Request Your Service Today

Our team is here to help with all of your electrical needs!
Glowing Reviews
Read What Our Customers Are Saying About Our Service

Great Job
"He was very efficient and mindful of my tight schedule, which meant a lot! He was sure to clean up after himself"
- Happy Customer
We will not hesitate to call Aardvark in the future!
"Aardvark Electric responded promptly and professionally to our minor emergency. Elie was great from start to finish"
- Thankful Customer
Goes Above & Beyond
"Something the inspector missed was pointed out and easily corrected which makes me feel secure in the knowledge that I chose the best company for my needs."
- Satisfied Customer
Flip the Switch
Schedule your service by filling out this form or calling our office at (404) 806-6851.