Lighting Installation & Repair in Atlanta, GA
When you need lighting installation & repair services in the Atlanta, GA area, look no further than the trusted team at Aardvark Electric. We provide trusted professional indoor and outdoor lighting services to help elevate your home's aesthetic and increase your security. From ring floodlights to recessed lighting, there's nothing our team of expert electricians can't handle. 
You may think that installing new lighting fixtures or making a small electrical repair is something you can handle on your own, but electrical work can be dangerous and is best left up to professionals. When something goes wrong with your lighting, or if you're ready for a lighting upgrade, call our trusted team at Aardvark Electric for a professional and safe lighting job you can depend on.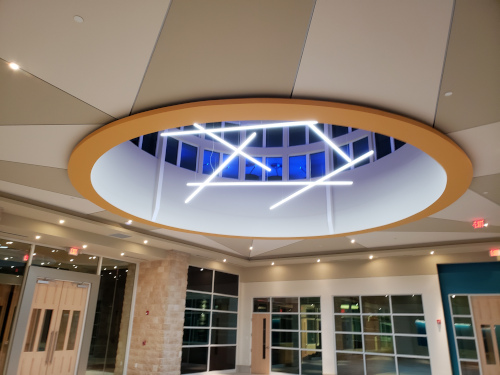 Contact us online or give us a call at (404) 806-6851 for more information on our lighting installation & repair services or to schedule an appointment with one of our professional electricians in the Atlanta, GA area.
Our Professional Indoor Lighting Services
At Aardvark Electric, we're proud to offer expert indoor lighting installation & repair services. Whether you need light fixture repair or a new lighting installation, our team has the skills and the tools to complete your job safely and with attention to detail. 
The team from Aardvark Electric offers the best light fixture installation in the area. Here are some of the light fixture installations we provide: 
Under-cabinet lighting

Recessed lighting

Chandelier lighting

Surface lighting

Pendant lighting

Track lighting

Wall-mounted lighting

Suspended lighting

Wall sconce cable lights
Whether you're looking to brighten up a room with more overhead lighting or want to upgrade to new energy-efficient lighting, our team is prepared to handle your job from start to finish. If you're looking to elevate your indoor lighting with a new design, our team can help solidify your vision and complete your installation. When we come up with an interior lighting design, we think in terms of three lighting types:
Ambient Lighting 
This form of lighting includes all general lighting from electrical and natural light.
Task Lighting
Task lighting is focused on close-range lighting to perform a specific task, such as writing, cooking, and sewing.
Accent Lighting
Lights in this category are designed to provide highlights. Accent lights accentuate specific objects or spaces and improve your home aesthetics. 
No matter your vision, we can help you come up with the perfect indoor lighting design for your home and complete your installation at a time that works with your schedule. We also offer the best products at unbeatable prices, so you'll know you're in the best hands. 
Lighting Repair Services
Our expert electrical contractors are also prepared to handle your lighting repairs, no matter the issue. Here are some signs you may need lighting repair:
Light bulbs that burn out quickly

Flickering lights

Lights dimming when you turn on another appliance

Sparks or the smell of burning

Inoperable electrical outlets
These signs mean you could benefit from the expert eyes of our skilled electricians. Don't ignore your need for lighting repair, as faulty lighting can cost you money and cause damage to your fixtures. 
If you have a wall switch that won't turn on, or you see flickering lights around your home, give our trusted team a call. We will complete an inspection to determine the issue and complete your repairs quickly with an emphasis on safety. When you need light fixture repair, look no further than Aardvark Electric.
Outdoor and Security Lighting Services
Outdoor lighting is an important part of security, and you can also use it to highlight your landscaping and architectural features. At Aardvark Electric, we feature professional outdoor lighting installation and outdoor lighting repair. 
Some of the outdoor lighting installation & repair services we offer are:
LED floodlight installation and repair

Exterior home light maintenance and repair

Energy-efficient outdoor lighting upgrades, including LED retrofits

Security lighting installation & repair

Landscape lighting and repair

Ring floodlight and camera installation and repair
Whether you want to install lighting to help with nighttime parking on your driveway or need to install new floodlights for security, our team has the skills and the tools to complete your job from start to finish. We handle many outdoor lighting repair and installation jobs to light up your yard and home for beauty and security. 
Our installations also feature the best quality LED lights that will give you years of trouble-free use. If you have an exterior floodlight or motion lights that are in high, hard-to-reach places and are no longer working, call our team to get your job done the right way. 
Our Trusted Lighting Installation Process
When you call our team at Aardvark Electric, we'll make your job a priority from day one. Here are the steps you can expect from our skilled team when you call us for lighting installation:
Initial Consultation
Our technicians can often come out for your initial consultation on the same day you call us. We'll take time to learn about your goals and listen to your concerns. After answering your questions, we'll move forward with our design ideas.
Design Presentation
Next, we'll get to work designing your beautiful and effective lighting system. We'll walk you through all of the steps, so you'll know just what you're getting and how everything will work.
Approval Phase
Next, we'll make sure you've approved our design and don't want any further changes. We won't move forward with your installation until we're on the same page. 
Your Installation
Finally, we'll complete your installation with skill and attention to detail. We'll prioritize safety during your installation process and give you a clear idea of when we'll be done before we even get started.
Go With the Bright Choice – Call Aardvark Electric
If you need lighting installation & repair services near Atlanta, GA, Aardvark Electric is here to help. Our talented electrical contractors have the skills and experience to transform your home's lighting or make trusted and safe repairs.
For more information on our lighting installation & repair services in the Atlanta, GA area, or to schedule an electrical service, contact us online or give us a call at (404) 806-6851. We are standing by to assist you.
We Are the Bright Choice
Learn What Aardvark Electric is Doing to Bring the Highest Quality to Your Home

Emergency Services
Family Owned & Operated
Same-Day Service
Up-Front Pricing
Satisfaction Guaranteed
Professionally Trained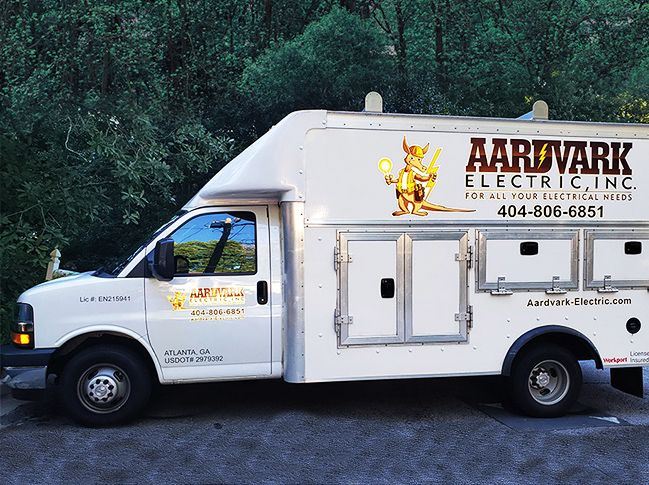 Request Your Service Today

Our team is here to help with all of your electrical needs!
Glowing Reviews
Read What Our Customers Are Saying About Our Service

Great Job
"He was very efficient and mindful of my tight schedule, which meant a lot! He was sure to clean up after himself"
- Happy Customer
We will not hesitate to call Aardvark in the future!
"Aardvark Electric responded promptly and professionally to our minor emergency. Elie was great from start to finish"
- Thankful Customer
Goes Above & Beyond
"Something the inspector missed was pointed out and easily corrected which makes me feel secure in the knowledge that I chose the best company for my needs."
- Satisfied Customer
Flip the Switch
Schedule your service by filling out this form or calling our office at (404) 806-6851.