Atlanta Ceiling Fan Installation
Ceiling Fans for a Cool, Comfortable Home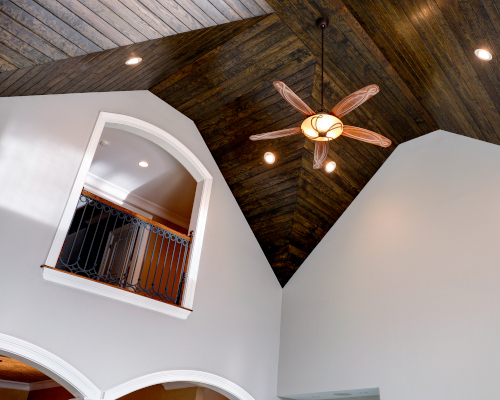 With Atlanta's sunny, sticky summers, your home needs every tool available to help you stay cool. That's why so many Atlanta homeowners use ceiling fans. Efficient models help circulate air without a large increase in your electricity bill. If your home is just a little too warm in the summer, it might be time to consider installing a ceiling fan, or replacing an old, inefficient model. Our Atlanta ceiling fan installation technicians at Aardvark Electric, Inc. have added and replaced thousands of different fans. In order to enjoy the comfort, style, and energy savings of ceiling fans without the noise and wobbling, contact our experts today.
Speak to an Atlanta ceiling fan installation expert by calling (404) 882-9917.
Benefits of Ceiling Fans
Ceiling fans have the potential to keep homes comfortable at a lower expense than using an air conditioner alone. They keep people cool by increasing airflow and helping moisture to evaporate from skin, which means you can set the temperature a few degrees warmer, while maintaining the same level of comfort. In slightly cooler weather, ceiling fans can be used, along with open windows, without loss of energy, unlike air conditioners. By reversing them, they can also circulate warm air in the winter, which can save on heating costs. Ceiling fans also come in a variety of looks and styles, which can improve appearances and add value to your home.
Ceiling Fan Styles
Before you choose a ceiling fan for your home or business, speak with one of our experienced electricians. There are a variety of different ceiling fan shapes, sizes, and models to choose from, and our Atlanta ceiling fan installation techs can help you choose the right model for your home.
The following are some of the most sought-after varieties of ceiling fans today:
Stack-motor ceiling fans

 

have powerful but quiet motors and are very durable. They work well for long periods of use.
Direct-drive ceiling fans

 

are designed in such a way that the motor does not rattle the blades as they rotate and is therefore quieter. Stack-motor ceiling fans can also use the direct drive.
Belt-driven ceiling fans

 

have a unique look and allow several fans to operate in tandem.
Cast-iron ceiling fans

 

have a classic look and durable components.
Do you have tall or slanted ceilings? Not to worry. We can attach a downrod extension to certain fan types to make it level at the right height. When properly installed, downrods are safe and keep your fan blades steady.
A Trusted Atlanta Ceiling Fan Installation Service
At Aardvark Electric, Inc., we're focused on expert electrical and customer service. We work with our customers to find the right style of ceiling fan for your home, and the quality of our service can't be beaten. All of our skilled electricians are highly trained and background checked for your safety and comfort. We're certain you'll be happy you chose us for your ceiling fan project.
Reach out today at (404) 882-9917 and take a step to a better, safer home. Call now to schedule your electrical services in Atlanta, GA!
We Are the Bright Choice
Learn What Aardvark Electric is Doing to Bring the Highest Quality to Your Home

Emergency Services
Family Owned & Operated
Same-Day Service
Up-Front Pricing
Satisfaction Guaranteed
Professionally Trained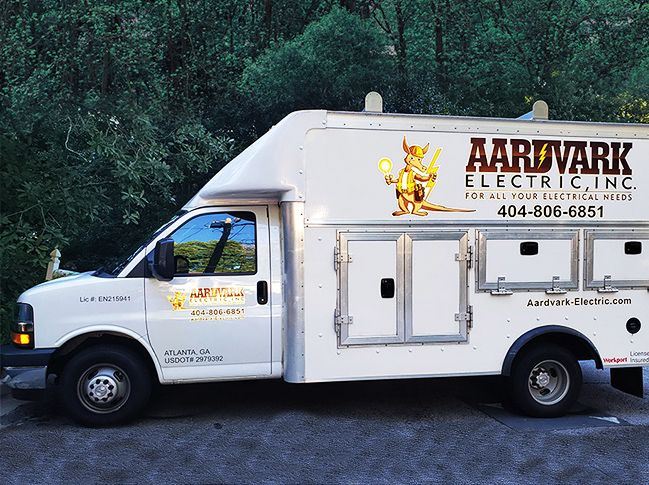 Request Your Service Today

Our team is here to help with all of your electrical needs!
Glowing Reviews
Read What Our Customers Are Saying About Our Service

Great Job
"He was very efficient and mindful of my tight schedule, which meant a lot! He was sure to clean up after himself"
- Happy Customer
We will not hesitate to call Aardvark in the future!
"Aardvark Electric responded promptly and professionally to our minor emergency. Elie was great from start to finish"
- Thankful Customer
Goes Above & Beyond
"Something the inspector missed was pointed out and easily corrected which makes me feel secure in the knowledge that I chose the best company for my needs."
- Satisfied Customer
Flip the Switch
Schedule your service by filling out this form or calling our office at (404) 882-9917.